True Actor Interviews are done with actors who are dedicated to the craft of acting. A true actor appreciates the art form and craft of acting. They demonstrate their authentic passion for acting by studying technique seriously over a period of years. To qualify as a "True Actor," they need to have performed as a leading/critical role on stage, in film, or both.
The spotlight is on the actor's dedication to becoming masterful at the craft and their process to do so. We believe the actors we select are great role models for what it looks like to be a true actor, someone who finds the reward in doing the thing itself. In many cases, they have made great personal sacrifices in order to be able to pursue their acting career on the biggest stage of all — Hollywood film and television.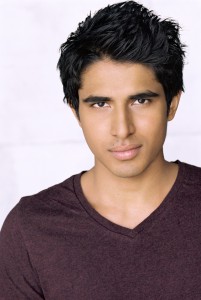 It's so great to have you here, Shravan. I think you might be the first East Indian actor I've interviewed. So I have to ask right up front…what do you see is the biggest difference between Hollywood and Bollywood?
Indian movies are very sentimental and require a lot of emotional depth…. and actors in India are expected to dance, do crazy stunts and sometimes sing as well.
In Hollywood, they use stunt men and stand-ins for some of these things. In Bollywood, you do it all yourself…. Although, I do see more and more actors singing and dancing and really developing other skills. But that's one of the things that has been different previously.
India is pretty far away from the Hills of Hollywood and "Bever-ly"(as Jed Clampett used to say…)  … Tell us a little bit about where you're from and how you ended up in Hollywood.
I was born and raised in Hyderabad, "The City of Pearls," a historic Indian city. It's an urban city with centuries of ancient traditions. People find it fascinating when they visit.
While I was there, I began acting. One of my first projects  was a part in "Kamala Tho Naa Prayaanam," a deep period drama by an award-winning director. I worked on a number of other projects there also.
In fact, just before moving to Los Angeles, I had just finished shooting another feature titled "Palletooru Maatalu." Most of the movies I did are quite tricky to pronounce and spell, so I won't put you through it! 
Ha! Thank you. I appreciate it. Although I would love to travel to India at some point, so maybe I need to practice my Hindi.  That's the language,right?
(Smiles.) Well… not exactly.  We have over 30 official languages — one for every state in India — and each has its own film industry. For example, Bollywood is for Hindi [the language]. But I worked in the Tollywood film industry, where the language is Telugu.
But yeah, for our purposes, we can go with "Bollywood" … it sounds nice overall because of the stereotype and it's what most Americans think of when they think of films made in India, like Slumdog Millionaire. Haha!
OMG! Was I politically incorrect?… Okay, so you were working in India in Tollywood… which most Americans think of as Bollywood. But the important thing is that after working in one of the states in India, you decided to come to Los Angeles. Right?
(Smiles.) Yes.
Okay… so why did you decide to move here? Just kind of a straightforward reason… because so much is done here?
There are a few reasons… I moved to Los Angeles earlier this year to hone my skill and bring a different perspective to Indian cinema, by studying method acting at the Lee Strasberg Theatre and Film Institute.  A lot of prominent Indian actors trained at this prestigious school, including an actor that I studied with in India. He recommended it and told me this was a great school.
So I came here because Hollywood has some of the best acting schools and teachers in the world… and yes, this is the film capital of the world.
What inspires you about acting?
Acting is a very powerful way to influence culture and reach out to billions. It has the potential to change the world for better, and that's my biggest source of inspiration.
And for me personally, confidence, living in the moment, and free flow of emotions are elements a strong actor possesses. We never stop learning in life and you only get better with experience. I believe everyone on this planet are unique and born with talents.
Since our birth, we've all gone through so many emotions such as laughter, sadness, anger, curiosity,etc. The question is, how are you going to use it? Some of us want to explore the nature of those emotions…. and we become actors…. or other types of artists. That inspires me.
Wow. That's deep. Since you're here in Hollywood now, tell me: Whose acting career would you like to model yours after? 
Bollywood actor Aamir Khan is known for his critical and commercial hits. He's done almost everything in his career. In Hollywood, Tom Hanks is one of the most multi-talented actors I've ever seen. He's acted in an array of film genres that only a few can boast of.
For my work, people often talk about my inclination towards comedy, but versatility is what I'm aiming at in the long run.
You mentioned some great actors… whose work would you say maybe awakened the acting bug inside of you?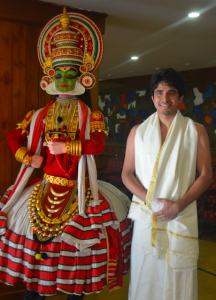 Actually there's another Bollywood actor Hrithik Roshan. His talent, flamboyance and hard work never go unnoticed.  But I'd say Leonardo DiCaprio changed the way I looked at movies. I was very young when Titanic was first released. It was a spectacle, and I was introduced to a new world of imagination and couldn't help but want to be an actor.  
Touching on a different point and going back to the craft… It seems that most top schools teach the craft of acting by working on scenes from plays. It seems like they prefer to teach acting by having actors do scenes from plays.  But how about you… can you comment on working on stage vs working in films? Do you have a preference?
I love the stage because it's magical and lively, but theatre is not so big in India. It's ironic because India has a very rich cultural heritage and is home to the oldest epics and plays in the world. Although I have to confess, I initially started as a young stage actor playing the disciple of an enlightened and legendary monk, Swami Vivekananda. That was great.
At the right time, I'll take it as a challenge to revive theatre in India, but right now I'm having a splendid run in film.
What do you find to be the most challenging part of acting?
(Laughs.) Pressure. There's always going to be pressure, no matter what!  Being composed and attentive in the middle of a chaotic set has always been a challenge for me. It's madness. I simply want to live in the moment and not worry about a million things that happen around me. That's the challenge…. and the reward!
What was the most challenging role you have played as an actor?
No questions… It was when I was playing an impoverished friend of a war veteran, and I starved myself for a few days while the summer heat in India drained the life out of me.  That was rough.
Speaking of challenges, let's turn back to the career side of things. How do you stay inspired given the challenges of the business of acting? So many actors complain and feel so helpless? Not all of them, but a lot of them. How do you deal with an actor's life?
Many aspiring actors set huge expectations and end up losing the one thing that matters most — inner peace. That's something that everyone must work on and eventually reach a point where no one can take it away from you.
It seems that having a way to get centered and peaceful is so important to a career no matter what level you are — in the beginning as well as when you're famous.  If you're not content with what you have, then you're not going to receive more.
I meditate everyday in the morning and start off my day with gratitude and affirmations. That gives me so much peace, love and happiness.
Many very successful celebrities know this. I'd love to work with Oprah Winfrey, David Lynch and Jerry Seinfeld because we share a common passion and mission towards Transcendental Meditation, world peace and stress free environment.  That is bigger than acting though. It helps me in all areas of my life.
Okay, fair enough.  But let's look at just acting… There seems to be some sort of zen place that it's important to get to.  But what would you say is the essence of acting? I know it's an open-ended question, but what comes to mind?
I believe preparation is the key to acting. It's simply a waste of talent if you're not prepared. Having a strong imagination, living in the present moment will definitely pay off but it's always a relief when you do your research and homework. Essence… I don't know. I don't think of it like that.
Well there you go! I love that. Forget the essence of it… Just prepare yourself!  HA! Seems like that answer could solve a lot of questions about a lot of things….. Just prepare and forget all the subjective, philosophical questions about it! I love that! — New topic… What would be your dream role to play?
Let's see.. A young and powerful character in a fantasy movie or series. I would also love to play an eccentric personality on a comedy series. I'm open and want to be versatile!
Actors have such heart.  And they allow their hearts to be touched. Who in your personal life has had the most impact on your desire to be an actor?
That's easy to answer. I was destined and obligated to take over our family business. I was scared to even discuss my future as an actor with my family. My high school friend gave me the confidence to pursue my dream to be an actor. He was pursuing soccer at that time and stood by example.
That is incredible.  Final question… How would you sum yourself up in a few words?
(Laughs)  Culturally eccentric.
For more information on Shravan Jasti, you can contact his agent Toni Benson of Thirdhill Entertainment at 310-786-1936.  Photo credit:  Dana Patrick. Interview by Melody Jackson, Ph.D., Smart Girls Productions.