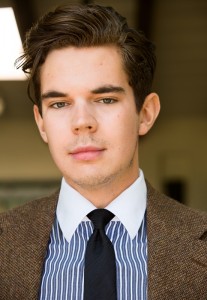 True Actor Interviews are done with actors who are dedicated to the craft of acting. A true actor appreciates the art form of acting. They demonstrate their authentic passion for acting by studying technique seriously over a period of years. To qualify, they need to have performed as a leading/critical role on stage, on film, or both. The spotlight is on the actor's dedication to becoming masterful at the craft and their process to do so. We believe the actors we select are great role models for what it looks like to be a true actor, someone who finds the reward in doing the thing itself.
This True Actor interview is with Ed Norwood, a British actor who's starred in numerous productions with distinguished reputation. I'm struck by his work and extraordinary ability as an Actor, his hard work shows in his achievements. Check him out.
Where are you from originally? Tell us about the acting you did there and how you got into acting.
I am originally from a little town next to Stratford-Upon-Avon, England. I got my first acting job at the age of 7 (1998) as a Munchkin in the Wizard of Oz and have continued to work ever since. I've now performed in over 50 productions at some of the most established venues in the UK, including The National Indoor Arena in Birmingham — one of the busiest and largest entertainment venue in Europe.
I performed in the Bill Kenwright's critically acclaimed productions of Jesus Christ Superstar and Joseph and the Amazing Technicolor Dreamcoat. I guest starred as a vocal solo-artist in The Cole Porter Concert. I've also performed at Wilton's Music Hall, which is the worlds oldest surviving Grand Music Hall and London's most famous and prestigious West End theatre, The Criterion Theatre, in Piccadilly Circus.
And let's not forget… I did my first movie role in a Fire Prevention Movie in 2002.
Great! Fire Prevention movies are important! Given that you were doing so well in the world of stage, what brought you to Los Angeles?
While I was studying the work of some of the great actors, I found several of them had trained at The Actors Studio, with Lee Strasberg so I came here to experience his work. I also felt it was the right time to explore the massive opportunities for on-camera work here.
That makes sense. One of the things that has impressed me about you is how much you've been working since you got here. Tell us about some of your projects and how you got these.
Yes, I'm happy to say I have been working steadily! This past summer I played the lead role in the short film "April Sun," which is currently being edited. I played Ryder, the story follows his struggles and passions of being an artist in our world. It's a great coming of age movie and it was extremely fun to shoot. Writer and director Alice Strangeluv gave me a lot of freedom to let go and really experience the life of Ryder – and of course, this is what we actors live for!
There were some emotionally complex scenes, which are always quite intimidating to film, but the cast and crew were all very supportive and I am excited to see the finished product.
I was cast in the SAG production "Institutions" I play Stanley who is very pompous and annoying. I think it was my English accent that got me the role.
Since arriving here, I've also been invited to become a member of 'The Group" at Strasberg, which is a great honor. It's a professional theatre group run by the distinguished industry professional Hedy Sontag, who is also a lifetime member of The Actor's Studio.
And very excitingly, I also appeared in the feature film "All I Ever Wanted" which will be released later this year.
It's so great to hear you talk about how much you love playing these varied roles. Just curiously, what do you think makes someone a strong actor? Is acting a natural talent or is it learned?
I think a lot of it is learned. Nowadays people are very conditioned by society, actors have to be free as individuals. It is vital to have the courage to search for what they are made of. That's one of the critical reasons training is so important.
Whose acting career would you like to model yours after?
Definitely Benedict Cummerbatch. He gets the best of all worlds TV, Film & Theatre. Also a lot of people say we're very similar.
Okay – so do you like performing in plays better or on screen in film and television?
After really growing up in the theatre, I do feel at home there. But I have to say there's something very exciting about TV and film work.
The best thing about TV and film is that it's a very exciting environment. And you can do more projects in a short amount time.
And the best thing about working in Theatre is that there's something magical about the stage – anything can happen. There's a kind of pressure that becomes addictive, and you can feel this magnetic pull from the audience which gives you the curiosity to dive in deep.
What do you find to be the most challenging part of acting?
On-camera? It's concentration and courage. When working on set there are expensive pieces of equipment, loads of people, lights, sounds, cameras everything… so you need to have great concentration to not get distracted and the courage to vulnerably go full body and soul into your own work.
Why do you think so many aspiring actors get depressed about their careers? What do you do to stay positive?
I stay inspired. I seek work that excites me and surround myself with positive and driven people. If the work is unavailable I take classes, read, watch new and old movies. I try to keep the flame strong that got me excited all those years ago.
Who are 2 or 3 of your favorite directors that you would like to work with… and why?
Wow. Directors would be Darren Aronofsky — his films like Requiem For A Dream and Black Swan hold some of the most interesting physiological characters. Joe Wright would be really great to work with for an English actor like myself. I find it really exciting to work with directors who take big risks, so I would also love to work with Lars Von Trier and Quentin Tarantino. And of course Woody Allen.
You said you studied other actors' work when you were studying acting at Mountview Academy in London. What actor inspired you the most?
In 1998 I saw this HBO movie called Gia and was blown away by Angelina Jolie. She was so raw, authentic, vulnerable, and wild. Then I watched her in Girl Interrupted which earned her an Oscar. After that, I ended up buying every film she had done and watched her whole career in the space of a month. She is famous for being a Method actor and had previously trained at The Strasberg in West Hollywood, so I went to check it out.
In a different vein though… My father's cousin Ian Calvin was a great theatre actor who sadly passed away before I was born. In our attic was a small suitcase where all of his theatre programs, press, photos and memorabilia were kept. I came across it when I was young and was fascinated by it. So he definitely inspired me, too.
What do you feel is the essence of acting?
The ability to live privately in public.
What would be your dream role to play?
I have a long list: Brick from Tennessee William's Cat on A Hot Tin Roof, Nicky Lancaster from Noel Cowards's The Vortex, Sid Vicious, Romeo the list goes on.
Who in your personal life has had the most impact on your desire to be an actor?
The wonderful Hedy Sontag. She allows me to remain a child at heart and introduces me to all the great artists I wasn't around to see.
What was the most challenging role you have played as an actor and where was this?
I have to say it was two of them, really. First, I was cast as the lead, KoKo, from Gilbert and Sullivan's Opera "The Mikado," which ran in London in 2013. Not only are KoKo's vocals a challenge with several solos, a cappella harmonies, and tongue twisting lyrics, his character is so energetic, he never leaves the stage. He remains hyper at all stages of his journey through the piece and he's funny. That wasn't easy. And… while rehearsing the Opera I was also rehearsing and performing in a Concert for charity on the other side of London.
Sounds intense! How did you pull it off?
I have no idea! I would wake up at 7 a.m., get to the theatre at 8:30 a.m. to rehearse "The Mikado" until 7:30 p.m. Then I would travel for an hour to Forest Oak and rehearse the concert until 10 or 11p.m. and then get home at midnight. And I was having to do my homework while on the subway, going over the choreography, harmonies, lyrics and lines for BOTH shows!
Even though it was extremely hard and testing, it actually was one of my favorite times. Regardless, to play such an critical & iconic role in theatre, which is normally played by a man much older than me and all the stresses of doing both projects at the same time, I gave one of my best performances. The press loved it, we received 5 star ratings, and I was highly praised for my work.
Congratulations. Let's go a different direction. Tell us something that embarrassed you at the time…
If any Englishman ever felt embarrassed he would never show it and he certainly would never talk of it.
Haha! Fair enough. We'll just move on then. Tell us what you're doing now and most recently.
I'm currently recording the new musical Count of Monte Cristo playing the role of Maximilian Morel. I'm working with some really exciting people, it's so good to be singing again.
I also recently shot a music video for Eyes For Gertrude titled "Messing Around." It's for their debut album released in January 2015. They've done very well in establishing a name for themselves and winning awards in the British scene. I suspect they'll be hitting the U.S. soon as well.
And I have lots of other projects in the works as well!
Ed, thank you so much for sharing about your acting career with us. I'm always inspired by actors who work hard, love the theatre, and study the work of other great actors. I appreciate you taking time to do this interview and I wish you great success.
If you want to read more articles on what it takes to become a working professional actor, please subscribe to get our free articles.